ADHD and Anger Management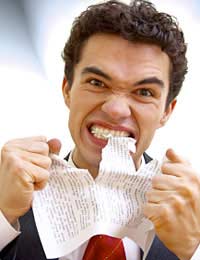 One of the common features of ADHD – Attention Deficit Hyperactivity Disorder – in adults is that controlling feelings of restlessness and a lack of concentration in work and social situations can lead to a lot of bottled up stress. People with ADHD are very prone to mood swings and find it difficult to get control over their emotions. This is a potent mixture that makes it very difficult for many adults with ADHD to control their anger.
If you have had a formal ADHD diagnosis, you are hopefully getting the best ADHD treatment to help and you are getting some support to help you cope with the condition in everyday life. But many people fail to recognise that they have a problem with anger and it is a good idea to look at this as calmly and objectively as possible.
Partners Bear the Brunt of Anger
Probably the easiest way to gauge if you have a problem with anger is to ask your spouse or partner. The people we are closest too often get the worst of it and will tell you by their reaction whether your angry outbursts are a problem. If you have had trouble in relationships in the past, or difficulty keeping cool in any social situation, anger may also be at the root of that.
Many people with ADHD realise that their angry outbursts can cause a great deal of pain for their parents, their children and their partner, as well as other close relatives and friends. You owe it to yourself and everyone you care about to try to manage your anger – but you can't do it alone.
Admitting You Get Angry
One of the first steps to managing your anger is to admit to yourself and others that you do actually get angry quite a lot and it is a problem. It is very easy to blame circumstances or other people – it was your fault, you were late, you didn't phone, you woke me up... It is important for you to accept fully that these things may happen, but your reaction need not be to blow up in fury every single time. These outbursts may be costing you very dearly in your relationships.
Becoming Aware of Your Anger
Being more aware of your anger starts with being able to take responsibility for your reactions. You can then talk more openly to the people you spend a lot of time with – ask them to help you recognise the signs that anger is building up. Do you always get angry in the same situations? Can you avoid or change anything to make sure you don't get the anger triggered so often? If you find that you feel very angry when you are hungry or tired, or after you have drunk a couple of glasses of wine or beer, make a firm decision to look after yourself. Have regular healthy snacks and avoid long periods between meals, make sure you get enough time to relax before bed and then to sleep and if alcohol is a problem, cut it out altogether.
What physical signs warn you that you are getting angry? Do you start raising your voice, going red, getting hot, feeling out of control? Start trying to recognise the early stages of a really bad attack of anger and take yourself out of the situation straight away to calm down. This is especially important if you have small children. Any parent can reach breaking point, but if you have ADHD as well, it is easy to feel completely overwhelmed by a screaming toddler.
Get Professional Help
As people around you see that you are trying to manage your anger, their responses will be more positive. It will also help if you can learn some relaxation or meditation techniques to generally increase your level of control over things like your breathing and your voice.
But self help is one thing and professional help is another. If anger is becoming a real problem, as your GP or your ADHD doctor about anger management therapy. Experts in anger management can suggest new strategies that you may not have thought of. You may never get rid of anger completely – few people without ADHD manage that – but you will cope better if you do everything you can to stop anger taking over.
You might also like...