Teaching Students With ADHD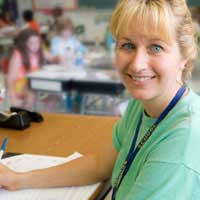 Up to 5% of children in the UK are affected by ADHD or Attention Deficit Hyperactivity Disorder, and 65% of children continue to experience problems when they reach adulthood. Therefore, most university student year groups can expect to have several sufferers of ADHD each year.
Many studies have found that people with ADHD have above average intelligence, but underperform academically. As such, university tutors can have a significant role in helping their students fulfil their potential.
ADHD Student Weaknesses
ADHD affects the executive functions of the brain, which include concentration, working memory, time-awareness, hindsight and foresight, control of emotions, and general motivation. This combination of effects presents unique challenges for a university or sixth form student with ADHD, however it also provides potential for some unique strengths. Students with ADHD can become highly successful; their condition gives them the potential to develop unique abilities which can help them to become the Da Vinci's and Einstein's of tomorrow. It is easy for students and tutors to become locked into a negative perception of ADHD, and it is important for everyone affected to think positively. There is much to be positive about.
ADHD Potential Strengths
Creativity
Inventiveness
Visionary imaginations
An ability to take risks, which can lead to major discoveries
An ability to process large volumes of seemingly unrelated information, and make broad observations
An ability to 'hyper-focus'
Strong negotiation skills
Intuition and rapid problem solving
Supporting an ADHD Student
Unlike other learning difficulties, ADHD students with often know what they should have done, but they are unable to use this knowledge to influence their future behaviour.
ADHD is characterised by three key elements: inattention, impulsiveness and hyperactivity.
Inattention
A person with ADHD does not fail to pay attention; they simply notice everything, and cannot distinguish which external stimuli are important and require focus.
Students with ADHD will appear to rapidly become bored with tasks and will switch from one task to another, making careless mistakes and producing work that is highly variable in quality. Note taking may be very difficult.
Impulsiveness
Students with ADHD will have difficulties with planning ahead and understanding the consequences of their actions.
This means that ADHD students may appear to act on the spur of the moment, and, most frustratingly, do not appear to learn from past mistakes. ADHD students may talk too much and appear intolerant of others, with frequent emotional outbursts.
Hyperactivity
Symptoms of hyperactivity in ADHD decrease with age, as individuals learn to channel their energies and tendencies more positively. They respond well to pressure and have boundless energy.
Students should be encouraged to take up a variety of sports or other external activities to help them burn off excess energy.
Problems with Memory and Organisation
Students with ADHD have problems holding information over a short period of time. Without the right support, students with ADHD are likely to forget lectures, appointments, deadlines, and books. People with ADHD also have great difficulties prioritising what is important, which causes particular problems during revision and exam preparation.
Research has also shown that people with ADHD are less able to make estimates of time than other people. This means that students need frequent reminders of how long remains for a task or assignment to be completed.
ADHD Mentoring
The goal of a student mentor or tutor needs to be helping their ADHD student see themselves as individuals who are both reliable and capable, and then helping them meet this expectation. For best results, tutors should:
Set ground rules
Reach agreement on how students need to have feedback delivered
Ask direct and succinct questions that help students stop and reflect on problems
Encourage and help students to develop problem solving skills
Help ADHD students to develop self belief by providing positive encouragement
Carefully monitor progress against agreed targets through phone calls, e-mails as well as regular meetings
Get students to repeat instructions
Providing reminders about the need to complete specific tasks
Help students to visualise and verbalise past experiences, so that they can learn to gain insight
ADHD Management Strategies
To help ADHD students learn, there are a range of strategies that tutors can adopt. These include:
Providing shorter more frequent assignments
Varying tone, delivery and style during teaching sessions to overcome problems of rapid boredom
Helping ADHD students identify distractions, working with them to develop strategies to overcome these, e.g. the use of ear plugs or headphones to reduce external noise
Ensuring that instructions, assignments and deadlines are given on a one-to-one basis
Maintaining eye contact and ensuring instructions are understood. Critical information may need to be emphasised more than once.
Mapping projects and providing intermediate goals and deadlines
Using colour coding for files and notebooks
Encouraging students to use personal organisers with daily 'to do' lists
Highlighting priority tasks and re-checking priorities on a regular basis
You might also like...