How Sleep Influences ADHD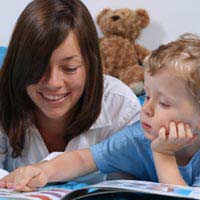 Finding out how lifestyle habits influence ADHD is more important than ever to help people with ADHD live healthy, happy lives. Sometimes, the question is whether certain factors make ADHD worse or if the ADHD itself is responsible. Sleep is one of those issues that have come under the spotlight in recent years.
ADHD and Sleep Deprivation
There is some research to suggest that children who have ADHD may also suffer from sleep deprivation. ADHD can be challenging enough as it is but it appears that when sleep deprivation is involved, symptoms can skyrocket.
Importance of Sleep
We already know that sleep is extremely important for any child in good health. A lack of sleep leaves kids feeling irritable and can have them struggling with memory and learning. For children who suffer from ADHD, these effects are amplified. In fact, healthy children can show symptoms similar to those seen in ADHD children when they suffer from a lack of sleep.
Healthy Children Vs. ADHD Children
To look at sleep patterns, researchers compared ADHD children to healthy ones. Children had to avoid caffeine for one week before the study. To make the process a more comfortable and natural one for kids, researchers used sleep recorders to monitor the children's sleeping patterns. This way, the children were able to sleep in their own beds without outside influences affecting the study.
Poor Sleep for ADHD Children
Researchers also had parents fill out a questionnaire to find out about the child's behaviour and any emotional issues. Then, they took into account factors such as socioeconomic status and marital status to ensure these didn't affect the results.
The study showed that on average, kids who had ADHD were sleeping just over half an hour less than the average time of healthy children who didn't have ADHD.
Not only that, but the ADHD children had around a quarter of an hour less rapid eye movement (REM) sleep compared to the healthy children. As mentioned in other studies, it has actually been found that when healthy children are sleep deprived, they can exhibit some of the symptoms seen in kids with ADHD. Examples include problems with memory or concentration. It is no surprise that poor sleep can likely exacerbate ADHD symptoms.
ADHD Affecting Sleep
Other research has looked at how ADHD affects sleep. Issues in children with hyperactivity can mean that kids with ADHD have a harder time falling asleep at night and staying asleep. As a result, they can have trouble waking up in the morning and staying alert throughout the day.
You can help your kids get a better sleep by maintaining regular, consistent bedtimes and awakening times each day. Try to keep the bedroom just for sleeping and put games and toys in another room. Remove electronic devices as well because they can interfere with sleep.
It helps kids to stay physically active each day, which can mean playing sports or going for a walk with them. This may help them to sleep at night. Keep bedtime calm and read your child a story or play some soothing music. The aim is to surround bedtime with relaxing rituals that help your child get the rest he or she needs.
Improving Patient Screening
Overall, the conclusion isn't necessarily that sleep deprivation causes ADHD by any means. Rather, it makes symptoms significantly worse. It suggests that physicians who have patients with ADHD might want to be screening them for sleep problems as well. The aim is to develop better therapeutic interventions and help kids who have ADHD get a better sleep and manage their ADHD symptoms.
You might also like...