ADHD and Over-eating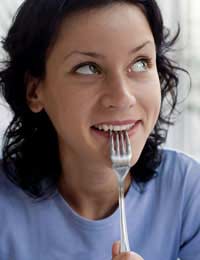 Sufferers of Attention Deficit Hyperactivity Disorder or ADHD will experience considerable emotional distress as a consequence of low self-esteem and self worth, social isolation and frustration. These outcomes of the disorder are well documented and well known. What is also very well recognised is the tendency of adults with ADHD to suffer from depressive symptoms, and to then take comfort from a range of 'self-medicating' activities.
Over-eating is one typical 'comforting' behaviour of adults with ADHD. Like the look of that Mars bar? It is eaten before any consideration of the consequences. Excessive snacking will be exacerbated by a lack of impulse control, which is a common problem in hyperactivity-impulsivity ADHD.
A first step to solving the problem of over-eating is to understand how ADHD can affect eating patterns, so that an affected person can stop blaming themselves and can be in state of mind to start regaining control of their appetite.
How Over Eating Patterns can Become Established
People with attention deficit disorder are likely to already have a low self-esteem as a consequence of their condition, and these feelings are made worse by over-eating and bingeing. Binge eating and general over-eating seem to happen most often when an ADHD sufferer is bored or not getting sufficient stimulation from their lives. People who have ADHD need higher levels of mental stimulation to help them feel focused and balanced. A lack of stimulation, adequate leisure activities or day-to-day mental challenges can easily lead to feelings of being irritable and depressed which can be temporarily relieved by eating.
One of the principle symptoms of ADHD is a loss of control of impulsive behaviour, so eating of many snacks and sweets can easily occur on impulse over the course of a single day. Another major factor is that when someone with ADHD is completely preoccupied with another activity, they will frequently forget to eat.
Because of a reduced awareness of hunger signals, sufferers forget to eat until their hunger builds up to an extreme level over the course of the day. By the time they remember to eat, the need is urgent and an ADHD sufferer may become ravenously hungry. Over-eating follows, and any control over portion sizes is completely ignored. Additionally, the feeling of 'being full' is likely to be ignored, so that a sufferer will continue eating long after they should have stopped. As a consequence of these dietary patterns, obesity may well follow.
Whilst medication can help with many of the symptoms of this disorder, it does not appear to have a significant effect on helping to address poor eating patterns, which can include Bulimia and binge eating. This may in part be due to the fact that ADHD goes undiagnosed until adulthood in many individuals with significant over eating problems, and by the time that the condition is recognised, obesity and poor dietary patterns may have already become established.
Things to Do to Establish Healthy Eating Patterns in ADHD
Identify which situations and patterns are associated with a loss of control over food intake
Plan meals and stick to the timetable regardless of whether you are hungry or not
Make sure that portion sizes are kept to a correct size
Avoid dieting - a lack of impulse control means that you are likely to fail
Set an alarm to remind you to eat at the appointed times
Keep your day full of activities to keep your mind stimulated, and avoid boredom
You might also like...