What is ADHD?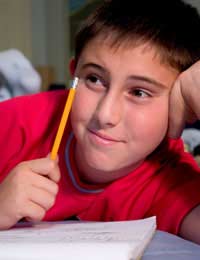 The term ADHD stands for 'Attention Deficit Hyperactivity Disorder', but this syndrome can also be referred to as ADD or 'Attention Deficit Disorder'. Rarely, the medical literature can refer to a subtype of the condition called HKD or 'Hyperkinetic Disorder'.
Whichever terminology is used, all three names refer to a medical condition with behavioural symptoms that prevent a child from being able to socialise properly or concentrate in a normal manner, with severe consequences on their social and educational development.
A child suffering from ADHD will exhibit persistent symptoms of hyperactivity and will have a very poor attention span, and these symptoms will become evident from very early on in childhood. Additionally, children with this disorder are likely to exhibit unusually impulsive behaviour patterns.
Unlike bad behaviour or an emotional reaction to difficult circumstances in a home or school environment, ADHD will present itself as a consistent pattern of unacceptable behaviour that is demonstrated across all social settings, and over a long period of time. If a child is as 'good as gold' at school but badly behaved at home, it is unlikely that they have any form of attention deficit disorder.
Whilst some of the symptoms of ADHD can resolve over time, the condition is life long, and in some cases ADD may not be detected until adulthood.
Types of Attention Deficit Disorder
There are three principal subtypes of ADHD, and the precise diagnosis will depend on which patterns of behaviour are shown most strongly and consistently over time. The three most common forms are:-
Predominantly inattentive type
Predominantly hyperactive or impulsive type
A combination of both of the inattentive and hyperactive/impulsive forms
How Common is ADD?
At present, it is estimated that between 1 - 5% of children in the UK will have attention deficit hyperactivity disorder, and a further 0.5 to 1% suffer from hyperkinetic disorder. This means that in any school class of 20 children, it is likely that at least one child will suffer from some form of ADHD.
Although the precise causes of attention deficit disorder are still unknown, research has shown that it is likely that there is a genetic component involved. A diagnosis is made more frequently in boys than in girls, and children with ADD are often found to have other learning disabilities or mental health problems.
Why is Diagnosing ADHD Important?
It is well established that the social and educational development of an ADD child will be severely affected if the condition is not recognised and treated at an early age.
A child with undiagnosed attention deficit hyperactivity disorder will find themselves permanently in trouble, both at home and at school. A lack of attention to school work and an inability to listen or complete tasks can frequently lead to detentions and other punishments, and will create a negative pattern of behaviour between the child, their teacher and their classmates. Additionally, because a child with a hyperactivity or attention deficit finds it hard to relate to others and socialise in a normal manner, they will rapidly find themselves socially isolated and ostracised from their peer groups.
All of these factors can rapidly lead to a loss of self esteem and depression in an affected child, sometimes with very serious consequences. To compound the problems further, a child suffering from ADD can easily evoke what is termed 'negative parenting'. This is where parents and children become locked in a cycle of negative behaviour towards each other, leading to even greater problems within the family.
If ADHD is left undiagnosed and untreated throughout childhood, there is a strong probability that it will lead to major social and behavioural difficulties when adulthood is reached. Research has indicated that teenagers and adults with ADD have higher rates of unemployment, are more likely to get into trouble with the authorities, and they may be more prone to other problems such as drug use and antisocial behaviour.
The good news is that as long as attention deficit hyperactivity disorder is diagnosed, there are a wide range of behavioural therapies and medications that can help an ADHD child to develop normally, helping them to lead a happy and fulfilling life.
If a parent or teacher believes that ADHD may be the cause of bad behaviour or the inability of a child to progress at school, it is better to seek medical help to rule out the possibility of attention deficit disorder than it is to make a child suffer by leaving the condition undiagnosed.
You might also like...