How to Help a Child with ADHD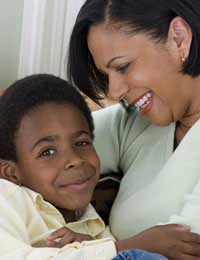 If you are a parent who has a child with ADHD or Attention Deficit Hyperactivity Disorder, you will already know all about the problems that arise on a day-to-day basis. Endless battles of wills and coaxing and cajoling your child to get things done will be the order of the day.
You love your child, you want to help, and yet the sheer frustration that your ADHD child's behaviour causes would be enough to drive a saint around the twist. So what can be done? First and foremost, you need to find a new way of thinking about the problems.
The Power of Praise
It is inevitable that any parent with an ADHD child will spend a disproportionate amount of time noticing their child's behaviour. However, if your focus becomes too intense, all your child will hear is that they are being endlessly criticised. Parents and children can easily fall into a situation where positive behaviour isn't noticed. Even things that an ADHD child does well may slip by without remark, and an ADHD child will quickly stops believing in themselves.
Whilst the experts agree that it is not good to avoid criticising an ADHD child, it is important is to qualify your negative remarks with encouragement and praise. Notice what has been done well. Ask your child what they are pleased about after a task has been attempted; point out to them all aspects of positive behaviour. You can then follow this with discussion on what could be improved upon next time, so that they could complete the task to an even better standard.
Addressing problems in this way allows children to focus on their strengths, whilst setting out clearly what is hoped or expected of them in other areas. An ADHD child who is continually reminded of what they can do will gradually build their self confidence, believing that they can do some things right and that with effort, anything is possible.
Break Down Tasks
It is all very well to say focus on positive achievements, but when tasks are not completed how can you put this into practice?
If your child sits down to do homework and spends time creatively thinking about how to tackle the project, that is worthy of praise, even if the homework is not fully completed. Shortcomings should not be overlooked but the emphasis needs to be on what has been completed successfully. If a parent focuses solely on what has not been done, a message will be sent to the child that what has not been done is more important than what has been achieved.
As a parent, you will also need to become highly observant of your child so that you learn what activities they enjoy and do well, and especially what makes your child happy and feel good about themselves.
Teach your Child to Solve Problems
ADHD children are frequently impulsive and will repeat the same mistakes over and over again. For ADHD children, problem solving does not come easily or naturally, but it can be taught.
When there is a behavioural or other problem that needs to be addressed, involve your child in discussion about ways it could be solved. It is important that both parent and child clearly understand and agree what the problem is, and why it is a problem at all. For example, your child's toys are always left in a mess. Why is this a problem? Because it upsets you? Because your child can't find things when they want them? Discuss all the reasons why leaving their toys in a mess is a problem for you, for them, and for your other children.
Now discuss with your child what the possible solutions to the problem might be, such as putting away one toy before starting to play with another, or having a clear up session at certain specified points of the day. Let your child propose ways they think they could manage to correct the situation.
Next, agree with your child which solution you are all going to try first. When several days have passed, sit down with your child to discuss how that solution is working. If it is working, heap praise. 'What a good job you have made of solving that problem!'. If the solution has failed, rather than criticise, agree which other solution to try next.
Build Expectations of Success
A child that expects to fail will probably do so. A child who expects to succeed will attack a task with greater enthusiasm and self belief, and is far more likely to succeed. Always remember this.
You might also like...
My grandson is 18, for years as shown signs of adhd, he has mood swings, destroys property, in his own flat he directs all his anger towards his mother.He self harms and when down ,self medicates with cannabis. i cant get his gp to help him, and i do not know what to do next, can you help
bruce
- 29-Jul-13 @ 5:16 PM
i identify with anyone going thro this. When my son was younger we had terrible problems with him. we found humour was the best tactic...he was only really manageable when we made him laugh out loud. It might not work for everyone but anythings worth a try with this awful syndrome
oddbod
- 17-May-12 @ 10:24 AM