ADHD and Diagnosing Adults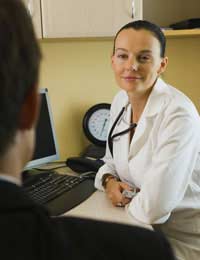 Despite the myths and misunderstandings surrounding ADHD or ADD, it is not always 'grown out of' once adolescence has been passed. ADHD can persist into adulthood in about 60% of cases, and many adults in the UK are currently undiagnosed. Many of these individuals may need help.
An affected adult may seek help because of a depression, anxiety or other psychological condition. When you bear in mind that an adult ADHD sufferer is far more likely to have problems with their relationships and employment, it is not really surprising that psychiatric problems are six times as likely in someone with ADHD than a normal person.
Diagnosing ADHD in Adults
As with childhood ADHD, there is no definitive biochemical test that can be taken to make a positive or a negative diagnosis. Instead, diagnosis has to be made from a subjective examination of the behaviours that are shown by the person with suspected ADHD.
A key marker for ADHD is whether any symptoms were shown before the age of seven; however, it is not always possible to determine this when someone is an adult. Parents may not remember, or they may no longer be alive to answer questions. School reports can provide some insights if they are still available, but many people do not keep them, especially when they are littered with unpleasant comments about failures to achieve at school.
As a result, adult questionnaires will examine a persons current behaviours and traits to help professionals make a diagnosis.
Executive Functions of the Brain
ADHD is essentially caused by an under active section of the brain, which is responsible for controlling our executive functions. These are the brain functions that allow individuals to develop skills in planning, organisation, self motivation, and control of impulses and impulsive behaviours. The brain's executive functions allow people to focus on a specific task and give it the necessary attention.
In adults, there are a range of problems caused as a result of a failure of the executive functions. In a child these symptoms can sometimes be explained away, and are often considered to be a result of a lack of discipline or emotional maturity. In adulthood these problems may be more obvious, and are not so easily explainable.
An adult ADHD sufferer is likely to:
have considerable problems with prioritising, organising and starting tasks
have great difficulties maintaining their attention span. For example, an ADHD sufferer may find great difficulties resisting distraction whilst reading
have great trouble persisting with a problem and sustaining their effort and motivation
have great difficulties controlling their emotions and coping with stress or stressful situations
have difficulties with their short term memory and frequently be very forgetful
have considerable difficulties with self-control and regulating their behaviours
ADHD Questionnaires
Diagnostic questions on behaviours will be asked that encompass adult behaviours both at work and at home. Questions that may be asked are likely to include (but may not be limited to) discussion of the following situations:
Behaviour at Work
Are you often late for work?
Do you miss or forget deadlines and business meetings?
Do you find it hard to organise projects?
Do you find it difficult to delegate work
Do you find it hard to complete projects to deadlines?
Do you often find that you spend hours working but achieve little?
Do you get easily distracted by trivial tasks, whilst neglecting ones that are important?
Do you have trouble paying attention in meetings or lose the thread of conversations with work associates?
Financial Management
Do you forget to pay bills?
Do you frequently run up large debts on credit cards?
Are you able to save money?
Do you shop impulsively?
Do you find it hard to keep paperwork in order?
Do you fail at budget keeping?
Eating Behaviours
Do you eat snacks throughout the day rather than meals?
Are you able to stick to a diet?
Do you frequently experience cravings for tea, coffee and chocolate?
Do you eat a high proportion of 'junk' foods?
Do you ignore signs of hunger over the course of the day, and then eat excessively in the evening?
Relationships
Do you have trouble with relationships?
Does your partner have to carry out all planning, cleaning, organising, bill paying and other responsibilities or is this shared?
Do you have to be nagged by friends or partners to carry out agreed tasks?
Do you frequently forget conversations with friends and family?
Do you forget family commitments?
Do you often keep friends and families waiting?
Do friends and family often say you are too blunt in your comments?
Do you have problems associated with sleeping?
If a positive diagnosis is made or suspected, treatment will be recommended. If considerable benefits are experienced as a result of treatment it is more likely that an ADHD diagnosis is correct.
You might also like...