Activities for Children with ADHD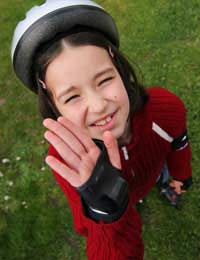 There are some good strategies for deadline with ADHD – attention deficit hyperactivity disorder – that will help your child develop the skills they need to manage their life as an adult. If you, as a parent, friend or carer, can encourage them to participate on some key activities, they should see their ability to cope with restlessness, anxiety and anger and frustration all increase.
Physical Activity is Great
Physical activity is good for all children but children with ADHD, particularly those that experience high levels of hyperactivity, need exercise and sports to let off steam. After being restricted in lessons all day at school, a good afterschool activity is some sort of challenging sport or rigorous physical activity – hard cycling, basketball, swimming, running and so on. Sports that involve a lot of waiting around for something to happen – like football – are probably not such a good idea. Individual sports such as gymnastics, martial arts and boxing are also good. Something that focuses physical activity and aggression, that gets the blood flowing faster around the body, is best.
Children who participate in after school sports and exercise activities should drink plenty of water to stay hydrated – avoid sweet sugary drinks – and they will need a snack. Try to make this a healthy choice with protein, rather than a high fat or high carbohydrate snack such as chips!
Sport also helps children with ADHD socialise in a structured way – as does being part of a group such as cubs, scouts, brownies or guides.
A Stable Routine
Children with ADHD also benefit from a good routine to their day. Make sure that they get up in time to dress, eat breakfast and have some time to interact with you and the rest of the family. Have a routine for packing up school books and their school bag, not just leaving it to the last minute. Talk through what lessons they have that day and make the day start as calmly as possible.
Afterschool exercise can be followed by time at home that is quieter – an ideal time for homework. All children benefit from completing homework in several bursts, rather than sitting down to it all at once. Try to encourage them to do some before eating their main meal, some afterwards.
Music and Dance
Children with ADHD can become obsessed with computers, TVs and playstations, but looking at a screen for long periods is generally thought to not be helpful. Try to limit the amount of time they spend sitting still but having their mind stimulated in this way to only about an hour each day.
That leaves a lot of time in the evening and weekends to fill – music and dance are good activities that children with ADHD find interesting and that help them develop better motor skills and social skills. Have different musical instruments and do some informal basic lessons at home. Perhaps they can have music lessons at school? Just singing and bashing a drum to a CD can be great fun.
Games at Home
It will depend on the attention span of your child but fun, fast and easy games can be great and the rest of the family can get involved too. Make games time limited if they are longer, with the winner in half an hour who has the most points, or the first to get to a certain level. Puzzles and problems to solve can go down well. You will need to be receptive to what your child wants though – their concentration may not always be good enough.
Holiday Activities
School holidays can be particularly challenging if you have a child or children with ADHD. Shopping and activities such as museums and even seeing films can be overwhelming to a child with ADHD. The day still needs to be well organised – teenagers with ADHD (and those without) will try to opt to play computer or playstation games all night and sleep all day at some point, but its not good for either.
Physical activity is still important on a daily basis so if the family can plan activity holidays with hiking, horse riding, cycling, swimming etc, that can help make everyone fitter. Rock walls, trampolining, going to the park, playing tennis or badminton, doing an assault course are all possibilities too.
Creative activities that are not so physical can also interest all children in the family – painting and drawing, making papier mache models, card making are all good for improving coordination and concentration.
You might also like...