Psychotherapy and ADHD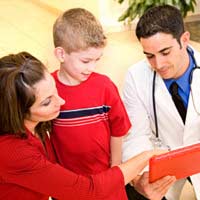 Given the severe emotional traumas associated with ADHD, psychotherapy can help children and families come to terms with the problems the condition causes. ADHD is not a mental illness in the traditional sense, but if it is not treated it can cause depression and host of other psychological problems. For this reason, a range of different psychotherapies should be offered to every child diagnosed with ADHD.
Why Psychotherapy and Behavioural Therapy?
In some ways, psychotherapy in ADHD is very similar to the treatments given to patients who have suffered a stroke or some other accidental brain injury. In stroke patients unused parts of the brain are retrained to take over the functions of the damaged brain tissues and psychotherapy can be used to help restore speech or movement.
In ADD or ADHD, psychotherapy and behavioural therapy can be used to help affected people learn new ways to respond to situations. It can help children to modify behaviours, control their impulsiveness, and bring some structure and order to their lives. Perhaps most importantly, psychotherapy can help a child or adult to cope with the emotional consequences of their illness.
Treating ADD or ADHD is a team effort between child, parents, teachers and doctors. It is essential that everyone is consistent and applies the same behavioural approaches at all times; everyone has to work to the same rules. As a result, there are programmes to teach parents and teachers behavioural management strategies for an ADD child or teenager, as well as therapies aimed only at the affected child.
Counselling and Psychotherapy
Psychotherapy is intended to help ADHD children manage the daily stresses that the condition causes. Counselling and positive reinforcement cognitive-behavioural therapies are intended to help children to cope with problems of low self esteem, feelings of failure, helplessness, isolation and loneliness.
Behavioural Therapy
The objective of behavioural therapy is to change a child's behaviour. In simple terms, behavioural therapy seeks to encourage positive behaviour but discourage undesirable behaviour. A range of behavioural strategies have been developed that are known to work well with ADHD children and teenagers.
Behavioural therapy is where a set of goals are drawn up between parents, teachers and therapists. You cannot address every problem at once, and so it is important to prioritise. New goals are added over time as positive behaviours become established.
Rewards or points are given for achievement of each of the desired behaviours, with a clear definition of the consequences that will be faced if the goal is not met that day. For example, sitting down to complete homework may have a reward of being permitted to watch television for 30 minutes. A failure equals no television. By applying such 'rules' consistently, the therapy will shape the child's behaviour over time.
However, positive reinforcement is the vital element. If the behaviour is met, a reward is given. If it is not, the reward is not provided. Rewards that have been earned for achievement of earlier goals must not be taken away for unrelated behaviours.
Social Skills Training
Because children with ADHD are frequently impulsive, they will often get into fights and will find it hard to maintain friendships. This has a major impact on a child's happiness and the development of normal social skills. Social skills training programs are structured to help an ADHD child deal with these problems, so that they become less socially isolated.
Parent and Teacher Training
Any adult who has to cope with a child with ADHD will recognise that their feelings of frustration, stress and anger do little to help their child. New behaviours are not learned, and negative reinforcement becomes the norm; quite often this can make ADHD symptoms in a child worse.
Counselling and education of both parents and teachers is one of the most effective interventions available in the range of psychotherapy options. These programmes are often called cognitive-behavioural training, and courses can be taken individually by teachers or family members or they can be undertaken by a family group. The purpose of this training is to help responsible adults understand and manage the behaviour of an ADHD child. By giving management and coping strategies to responsible adults, stress levels can fall, with benefits all round.
Summary
Limited research trials have shown that a combination of therapies and medication work far better in controlling ADHD symptoms than either therapy used alone. However, these trials do not have an objective way of measuring improvements in self esteem or reduced stress levels in parents, teachers and children. As such, all forms of psychotherapy are an essential part of treatment, not just for the child but for their whole family.
You might also like...